How to Change Logon Screen in windows 7
Change Logon Screen in Windows 7 is simply easy and can be done within few steps. This article will help you to change the background image when you login or logoff in both condition. The default background wallpaper/screen can be found in C:\Windows\System32\oobe\background.bmp, you can replace it with your custom background using default name "background.bmp" or either follow this article to change background with custom options in Windows 7.
Default Logon Screen in Windows 7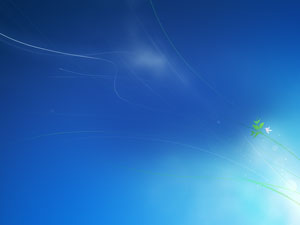 Steps to Change Logon Screen in windows 7
Open Your Run Command by Pressing Window Key+R or any other way that you know already
Type regedit in Run box

Now Find Find HKEY_LOCAL_MACHINE > Software> Microsoft > Windows > CurrentVersion > Authentication > LogonUI > Background
Next, Click on OEMBackground, if the OEMBackground not available then follow these steps
Change its value to 1 (click on image to view large)

Click OK and Close the regedit
Now Goto My Computer > Window Directory (default directory is c:/windows)
Open system32 folder in your windows directory, Navigate to oobbe folder (c:/windows/system32/oobe) and create a folder named info. Create another folder named backgrounds inside info folder.
Now Final Path should be: c:/windows/system32/oobe/info/backgrounds
Place your background image inside this folder. Two Important things for your image

First, Your file must be named to backgroundDefault.jpg
Second, your file must less than 256kb in size

Test it by Locking your computer or simply pressing Window Key + L Your custom background image should be shown in logon screen.
Alternatively, name your background to work with specific resolutions. Here are the background names:

background768×1280.jpg (0.6)
background900×1440.jpg (0.625)
background960×1280.jpg (0.75)
background1024×1280.jpg (0.8)
background1280×1024.jpg (1.25)
background1024×768.jpg (1.33-)
background1280×960.jpg (1.33-)
background1600×1200.jpg (1.33-)
background1440×900.jpg (1.6)
background1920×1200.jpg (1.6)
background1280×768.jpg (1.66-)
background1360×768.jpg (1.770833-)
How to Create a New OEMBackground Registery
If OEMBackground doesn't exists into your registery file then you can create it by using following options.
Follow 3rd step above and right click anywhere in white space, click on New > DWORD (32bit) Value as show in image.

Name/Rename it OEMBackground
OEMBackground created now Double click to change its value.
Still having problem with Change Logon Screen in windows 7, You can comment below and we'll try to solve your problem.