Photo editing software is the best if you want to convert or modified your original photo. You can create collages, cropping, adding some text and more things you want to do with your photos and images. Its all done by photo editing softwares. It can be save times and gives you best experience while modifying or editing your photos. Photo editing softwares are not free, you've to spend some money for purchasing image editing software.
Microsoft Paint
Microsoft Paint is the inbuild Photo editor in windows. If we talked about best photo editing software then our first choice is Microsoft Paint. It is best and free photo editor that is provided from Microsoft. It has many photo editing features like Resize, Add text, colorful text, Crop, brushes, add shapes and many more.
Microsoft Paint Features:
Support Many Image types
Cut, Copy and Paste
Crop image
Rotate
Resize
Print Image
Zoom In / Zoom out
Full Screen View
Rulers
Grid Lines
Hide/Show Status Bar
and many more…
Microsoft Paint Tools:
Pencil
Eraser
Brushes
Add Text
Fill with color
Color Picker
Magnifying Glass
Shapes Tool
Transparent Selection
Free Selection
Square Selection
& more…
Input
Ouput
BMP, JPG, PNG, GIF (Non-Animated), TIFF
BMP, JPG, PNG, GIF (Non-Animated), TIFF
* It will overwrite the original copy of image when you press CTRL+S or choose save option. To make a new copy of new image make sure to use "Save as" option.
PhotoScape
PhotoScape is a fun and easy photo editing software that enables you to fix and enhance photos. It is the best free software in my opinion If i talked about my personal expirence with PhotoScape becuase i am using it whenever i need to edit photos, making Animated GIFs and other photo editing.
Features:
Add Text
Change size
Brightness controller
Frames
Auto Contrast
Create Animated GIF
Balloons
Bloom
Red eye Removal
Combining
Cropping
Filter
Mosaic
Vignetting Filter
Clone Stamp
And many more…
PhotoScape Tools
Viewer: It can view photos from your folder or create a slideshow
Editor: Already mentioned above
Batch editor: You can batch edit multiple photos
Page: You can merge multiple photos on the page frame to create one concluding photo
Combine: You can even attach multiple photos vertically or horizontally to generate single concluding photo
Animated GIF: Creates a final animated photo in .GIF format
Print: It can print portrait shots and passport shots.
Splitter: Splitter can wedge a photo into numerous pieces
Screen Capture: A great tool for screen capturing.
Color Picker: Color picking becomes very easy with PhotoScape.
Rename: You can change photo file names in batch mode
Raw Converter: It can convert RAW to JPG format
Face Search: An awesome feature that can find similar faces on the Internet
Input
Ouput
BMP, JPG, JPEG, PNG, Animated GIF, TIFF
BMP, JPG, JPEG, PNG, Animated GIF, TIFF
Image Tuner
Image Tuner is a free batch image resizing, renaming, conversion and watermarking software with a super-intuitive and straightforward interface. Based on an extremely fast image processing engine, this award-winning software has a bare minimum of controls and will help you with the most typical photo and image-related tasks.
ImageTuner Features:
Rename multiple pictures in batch mode
Remove EXIF and other info from digital pictures
Flip, rotate, sharp, colorize, round your photos
Convert between image formats using various settings
Support Windows XP, Vista, 7, 8, 8.1, 10 (32 and 64)
Resize your photos in batch mode using built-in templates
Add your logo or other watermark to multiple photos at once
Input
Ouput
BMP, JPG, JPEG, PNG, Animated GIF, TIFF
BMP, JPG, JPEG, PNG, Animated GIF, TIFF
Artweaver Free
Artweaver is a full-featured painting tool with a huge set of predefined realistic brushes to paint creatively or just experiment. Artweaver is suitable for beginners and advanced users.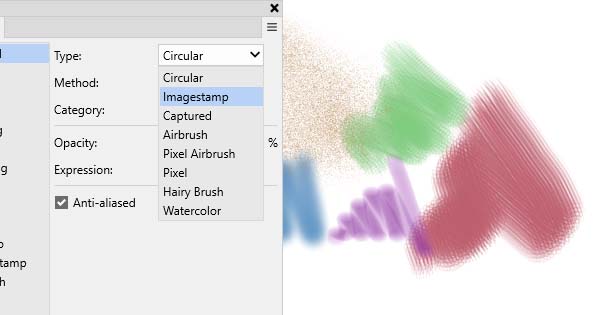 Input
Ouput
BMP, JPG, JPEG, PNG, Animated GIF, TIFF
BMP, JPG, JPEG, PNG, Animated GIF, TIFF
* Artweaver is available in two versions: The Artweaver Free version for free and an Artweaver Plus version with costs which has more features than the free version.
Paint.NET
Coming soon…
Coming soon…
Coming soon…
Coming soon…
Coming soon…
Coming soon…